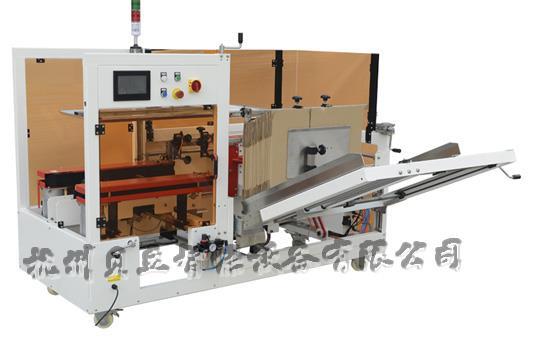 Low speed carton forming cover machine
Product Details
Carton molding cover Machine transmission design, the use of up and down transmission box tape tape box packaging operations.
Suitable for carton specifications, at the same time packaging more standardized different cartons, fully automatic adjustment type. Online process-push into the steering using L-style. Precision and durability of machine parts, stable operation of long life. To ensure that the manual tape is beautiful, fast and high efficiency.
Carton Molding cover Machine performance:
1. This series uses the rationalization design, in order to synchronize the suction molding, with the folding bottom and the back cover to complete at once.
2. Precision and durability of the machine parts, the operation of the process without vibration, stable operation of long life.
3. Lightweight, high maneuvering performance, high speed, high efficiency.
Machine Model: BL-K20TX
Applicable carton size: 280≤L≤550mm
160≤W≤400mm
510≤L+W≤1000mm
285≤H+W/2≤620mm
Molding Speed: 8-10 cases/min (Stable)
Mechanical Size: L2050mm*W1950mm*H1450mm
Applicable power supply: 220/380V 50Hz
Applicable gas sources: 6kgf/cm², 450nl/min
Power consumption: 0.4KW
Applicable tape: W48, 60, 75mm choice
Machine Weight: 400KG
Machine Features:
Standard function of the carton automatic molding cover machine;
The use of cylinder forming mechanism;
The molding speed depends on the size of the carton;
Can be wiring or single-machine operation, suction box, forming, folding bottom, back cover once completed;
There are tape and carton missing alarm function;
Carton storage vertical, can be replenished with empty cartons at any time, no downtime;
Suitable for the same time the same specification carton batch use, change specifications when manually adjusted;
Standard machine countertop height of 650mm;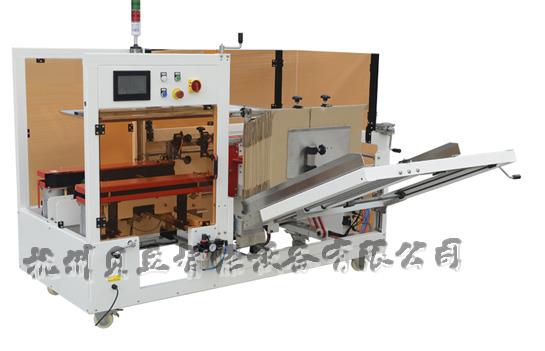 Inquiry